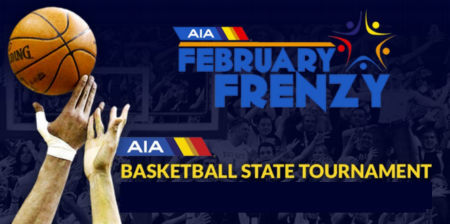 VALLEY VISTA RECAP
JACKRABBITS TO PLAY MOUNTAIN POINTE IN 6-A - Mesa (#12) will play at #5 Mountain Pointe on Thursday, February 14 at 7:00pm in the 2019 6-A state tournament. It's February Frenzy time!
Update - Mountain Pointe tops Mesa by a score of 64-46. BRACKETS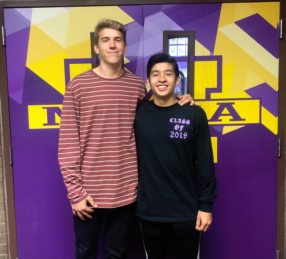 Veteran leadership of Hobbs and Adame crucial to Mesa's success - Some basketball teams would panic after giving up a 13-5 run that lasted into the fourth quarter. Others wouldn't be able to finish strong, holding a two-point lead with under a minute to go. And many wouldn't know how to respond after losing a game to the same opponent three days prior in a tournament.
Mesa High School's basketball team faced each of these scenarios in their first regular season game and overcame all of them in a 44-40 victory over Corona Del Sol.

The primary reasons why? Composure, experience and leadership.

At the forefront are two seniors, Zach Hobbs and Tony Adame. They are making sure that the standard of excellence surrounding the Mesa basketball program doesn't miss a step during a period of change. STORY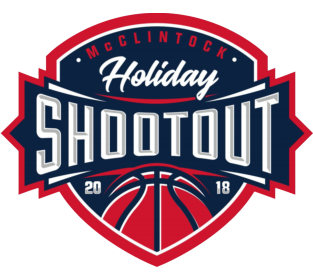 CESAR CHAVEZ 67, MESA 48: The Champions (12-3) played well enough for a double-digit lead at halftime and didn't give the Jackrabbits (11-5) a chance in the second half rolling to victory in a matchup of 6A schools. The win was the seventh in a row for Gary Lee's squad.

Mesa trailed 30-20 at the half with hope of making a run in the third period. A rash of turnovers - eight in the period - led to easy points. The deficit grew to 40-22 with about five minutes left in the third. Mesa trailed by as many as 24 in the final period.

Twelve players scored for Cesar Chavez, two hit for double figures. Ricardo Sarmiento hit for 15 and TyTy Washington chipped in with 11. Mesa was led by Julian Jackson with 13 points and Ammon Moritz with 10. Leading scorer Zach Hobbs was stymied and finished with a season-low two points. Hobbs sat out much of the second half after the game got out of hand. Hobbs was 1 of 8 from the field. Mesa faces Apollo on Saturday at 5:30 for third place. BRACKET

CORONA DEL SOL EDGES MESA IN FEAR FINALS - The Jackrabbits lost in the championship game of the Fear the Hop Holiday Tournament. The final score was 59-51 in favor of Corona del Sol.

Tradition Never Graduates - Basketball is family right? I mean, that's what any high school, college, and even professional basketball player is going to tell you. Players like to say it's the competition that gets their juices flowing or the roar of the crowd that gets them fired up. What if there was a place where the competition, the roar of the crowd, and the feeling of family all blended into one? That would be utopia for most basketball fans. Well, there is such a place.

Welcome to Mesa High School basketball. READ MORE

Mesa TOP ALL TIME PLAYERS - Richard Obert, azcentral sports
Mesa High has as rich a football history as any high school in Arizona. Boys basketball was good in the school's early years. But it really picked up in the 1980s under coach Paul Newendyke, and hasn't stopped rolling under Shawn Lynch in the early 2000s and now with Scott Stansberry in charge.

It is easy to find 10 players but extremely tough to pick a No. 1. Any of the top three players can make a case for being the best basketball player in school history. Here are Richard Obert's top all-time Mesa High boys basketball players. STORY


2019 EAST VALLEY REGION HONORS
Zach Hobbs
Player of the Year
Offensive Player of the Year
Region 1st Team
Tony Adame
Region 2nd Team
Ammon Moritz
Region Honorable Mention
Zayn Kimbrough
Region Honorable Mention
Coach Stansberry
Region Co-Coach of the Year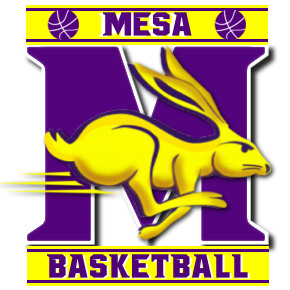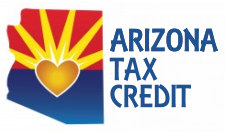 HELP THE PROGRAM, HELP YOURSELF - Arizona law provides a tax credit for contributions to public schools to support extracurricular activities or character education. You can help the Mesa basketball program and possibly lower your tax bill by making a donation earmarked for the basketball program.

The state tax credit is available to ALL qualifying individual Arizona state taxpayers. You do not need to have a child enrolled in a school to take advantage of this state tax credit. It is always best to consult a tax adviser to see if you qualify for the dollar-for-dollar credit. DONATE

MESA RECORDS - Check out the individual game, individual season and individual career records on the RECORDS page.