Jahii Carson wins battle against old team - STATE ROUND 2 - 02/26/11
ASU recruit nets 37 points in win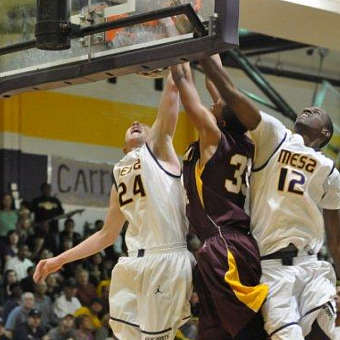 In the first 29 minutes of game action between Mountain Pointe and Mesa on Saturday, there were scoring outbursts, emotional outbursts and everything in between.

And through all that, the game was still deadlocked at 58.

It was the second-seeded Jackrabbits, though, that dominated the final three minutes of the game to capture a 72-66 victory over the No. 7 Pride to move on to the 5A-I boys basketball semifinals against Brophy on Thursday at Jobing.com Arena.

The atmosphere was electric from start to finish, as Mesa's star guard, Jahii Carson, played against his former team for the first time. The state's top-rated senior transferred from Mountain Pointe following his sophomore year.

Carson finished the game with 37 points, five assists, four rebounds and four steals.

"Obviously it was going to be crazy," Carson said. "Ex-teammates of mine jawing at me, so you know I had to jaw back. I wanted to come out and show them that Mesa was a good pick for me."

Ben Cuevas broke the 58-58 tie with a bucket, and Carson followed that up with a score of his own to give Mesa a four-point lead with 2:09 remaining.

Mountain Pointe's Tylor Wimbish cut the lead down to two points with 1:54 remaining, but the Jackrabbits went on a subsequent 6-0 run to lead 68-60 with 35 seconds left, and the Pride would get no closer than five the rest of the way.

Mountain Pointe's student section directed taunts such as 'We don't miss you' toward Carson, and it seemed like the Mountain Pointe players were also intent on proving they were better off without him.

The Jackrabbits led by as many as 11 points in the first quarter, but Mountain Pointe used a 13-1 run to take the lead in the second quarter and trailed by only three at the half. The Pride held a one-point lead heading into the fourth quarter, and stretched that to five points on a bucket by Jerome Garrison with seven minutes remaining. A half-minute later, though. Garrison picked up his fourth foul and was forced to the bench.

Mesa would fight back to a tie game by the time Garrison re-entered with about four minutes to play. Mountain Pointe coach Brian Fleming said there was too much time left in the game to keep Garrison on the floor with four fouls.

"I would have killed myself if I kept him out there and he fouls (out) right away and then we lose him for the rest of the game," Fleming said. "I tried to keep him as long as I could."

Mesa played without senior Charles Croxen, who was suspended for the game after getting ejected from the team's opening-round playoff win over Tucson.

Trent Molesworth picked up much of the slack, registering 12 points to help Carson with the scoring load.

"We talked about Charles once, and that was Thursday morning, but we said that was nothing more than an excuse," Mesa coach Shane Burcar said.
●●●●●●●●●●●●●●●●●●●
Jahii Carson powers Mesa to victory - STATE ROUND 1 - 02/23/11
ASU recruit nets 38 points in win

Arizona State recruit Jahii Carson made 22 of 24 free throws, leading Mesa High to a 68-60 Class 5A Division I boys basketball first-round victory over Tucson High on Wednesday night.

Tucson's strategy going into the second half was no secret: Faceguard Carson and let its senior, Shakir Smith, take its shots. Smith scored 32 for Tucson, but Carson's 38 points was too much for Tucson to overcome.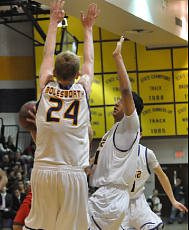 "They were trying to faceguard Jahii, and we had some other guys step up," Mesa coach Shane Burcar said. "Trent Molesworth and Charles Croxen both made plays when we needed them."

Croxen received his second technical in the fourth quarter and was ejected for taunting Smith after he missed a 3-pointer. The ejection, which means Croxen will miss Saturday's quarterfinal against Phoenix Mountain Pointe, looked like it might spur Tucson to a last-minute comeback.

"I was just playing basketball," Smith said. "I was happy we got the call and the easy points."

With three minutes left in the fourth quarter, Tucson made it a three-point game and pushed the No. 2 seed Mesa to its limits. However, Carson iced the game in the fourth quarter at the line.

"We put Jahii on the line way too many times," Tucson coach Gary Lewis said.

Carson made Tucson pay.

"When it comes down to the clutch I have to knock down the free throws," Carson said. "In a close game like this, free throws and tight defense wins the game."

Molesworth, a senior, added 14 for Mesa High.

"This is the most exciting time of my life," Molesworth said. "We just have to stick together and play hard."

Said Burcar: "We just have to keep playing Mesa basketball."
●●●●●●●●●●●●●●●●●●●
GAME #16 - Carson hits game-winner for Mesa - 01/18/11
With a little more than two seconds left, Mesa's Jahii Carson hit a last second runner for his 36th and 37th points of the game to defeat host Red Mountain, 67-65, Tuesday night in a 5A-I Fiesta region boys basketball game.

Trailing by one point going into the fourth, the two teams battled back and forth until Carson's runner gave the Jackrabbits the lead for good.

Juan Zuniga led the Mountain Lions (7-12) with 18 points, while teammates Jordan Pratt and Eric Pacheco score 17 apiece.

Charles Croxen added 17 for the Jackrabbits.
●●●●●●●●●●●●●●●●●●●
GAME #15 - MESA TOPS MOUNTAIN VIEW IN MLK CLASSIC, 66-61 - 01/17/11

61 - The questions about Mesa's state title contender viability only increased by halftime of Monday's game against top-ranked Mountain View.

So the third-ranked Jackrabbits turned up the pressure.

A suffocating full-court press gave the Toros fits as Mesa's masterful second half resulted in a 67-60 victory to cap off the MLK Basketball Classic on Monday night at Wells Fargo Arena and boost the Jackrabbits back among the short list of contenders for the 5A-I crown.

Mesa was reeling after a loss to Pinnacle on Jan. 4, but has won four straight since.

"We (had) to get tough," Mesa coach Shane Burcar said. "Bottom line, we can talk like we're good and all that, but unless we do it, we're nothing."

Mountain View led 34-28 at the half, but Mesa turned it around in the final two quarters mainly due to the trapping defense. The Toros turned the ball over 21 times and were called for a pair of 10-second backcourt violations.

Mountain View dominated the glass, outrebounding Mesa 29-16, but had trouble simply getting shots up after intermission, which contributed to the comeback.

"Once we picked up the defensive intensity it seemed like everything started to fall into place," Mesa point guard Jahii Carson said.

Carson led the way for the Jackrabbits, scoring 31 points and handing out eight assists. Desmond Medder added 18 points for Mesa. The Arizona State-bound Carson averages fewer than three assists per game on the season, but was getting everyone involved in this one.

"It's hard to guard us when we are doing that," Burcar said.

Mountain View entered the final quarter with a 47-46 lead, but that changed quickly. Carson found Medder and Trent Molesworth for baskets to put the Jackrabbits ahead 50-47, and they wouldn't trail the rest of the way.

Camyn Boone hit a shot and was fouled with 1:29 to cut the lead to three points, but he missed the ensuing free throw and Mesa hit seven of its final eight free throws to clinch the victory.

Boone battled foul trouble throughout the game, as did guard Mark Mazzucco. Jaren Sweeney led the Toros with 19 points, but the team only registered 26 points after intermission.
●●●●●●●●●●●●●●●●●●●
GAME #14 - MESA SURVIVES IN OT WIN OVER DESERT VISTA - 01/14/11
Jeff Lowery's potential game-winning shot from the baseline came up short as No. 2 Mesa escaped with a 54-53 overtime win over No. 4 Desert Vista in a 5A-I Fiesta Region game on Friday night at Mesa.

Mesa had the ball with a one-point lead, but Charles Croxen was called for an offensive foul with 28.9 seconds left to give the ball back to the Thunder. Lowery dribbled up top while the clock ran down, and then drove to his right. He pulled up inside the 3-point line, but was well defended by a pair of Mesa players.

"Get in front and contest," Mesa coach Shane Burcar said of the team's defensive plan. "Then, get the rebound."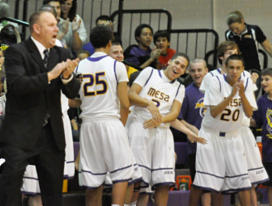 Desmond Medder grabbed the board and was fouled with four-tenths of a second remaining. He missed both free throws, but a desperation heave by Desert Vista at the buzzer wasn't close.

The Jackrabbits improve to 2-0 in region play, while the Thunder fall to 0-2.

Jahii Carson led the Jackrabbits with 27 points and added seven rebounds, but he fouled out on a reach-in with 48.8 seconds left in overtime. Mesa didn't score again after he exited, but held on.

Danny Powell had 12 points in his return to the Mesa gym after playing for the team the past two years. He transferred to Desert Vista in the off season. Powell had a chance to tie the game at 47 with 2:25 left in the fourth quarter, but missed a lay-up. Carson got the rebound and collided with Powell, who was called for his fifth foul.

Carson hit a pair of free throws to push the Mesa lead to 49-45, but Desert Vista battled back to force overtime when Lowery hit a 3-pointer with six seconds remaining in regulation. Carson had a runner from inside the lane that would have won the game at the buzzer, but it bounced off.

"I'm glad my teammates stepped it up at the end," Powell said. "It was just a few things that didn't go our way."

Desert Vista has lost two in a row after starting the year 14-3, but those have been by a combined three points. Mesa trailed by 10 points after the first quarter, but cut the deficit to four at the half and took the lead heading into the final quarter.

Desert Vista played a 2-3 zone for most of the contest, but was forced to switch to man once Mesa took the lead and began stalling. In turn, it opened up more lanes and easier buckets for the jackrabbits.

"We want to play against man-to-man," Burcar said. "Our strength is our dribble-drive."
●●●●●●●●●●●●●●●●●●●
GAME #11 - Pinnacle's balance beats Mesa - 01/04/11
Jahii Carson is good enough to take on much of the scoring load for the Mesa boys basketball team.

But not all of it.

The senior point guard had 32 points on Tuesday night, but his teammates had seven fewer than that combined in a 67-57 loss to 5A-II No. 1 Pinnacle in non-region action at Mesa.

Desmond Medder scored 14 points, but no one else on the second-ranked Jackrabbits had more than two.

"We have enough good players to knock down open shots, but when we're not knocking down shots it puts more of a load on me to get to the basket and start scoring," Carson said.

Mesa recently returned from a tournament in New York, but Carson did not want to blame the loss on the traveling.

"It was kind of hard, but that's no excuse for us," Carson said. "We should have came out here and had a better fight than this."

Pinnacle continues its impressive early-season run, improving to 11-2 with wins over Desert Mountain, Central and now Mesa on its resume.

The Pioneers were the opposite of the Jackrabbits, as five players had five points or more, led by Drew Bender's 17.

"We usually share the ball really well," Pinnacle coach Charlie Wilde said. "All 15 kids have bought into the team. Everybody has their role… and that's why we're doing a good job."

Pinnacle's strategy was clear. Every time Carson drove into the lane, the defense sagged down, forcing him into tough shots or kickouts.

Mesa had multiple good looks from the outside, but had trouble connecting.

"They didn't shoot very well," Wilde said. "We felt like we could do that (force perimeter shots), and hopefully they wouldn't" make them.

Mesa held a two-point lead at the half, but Pinnacle steadily took control, and the Jackrabbits would get no closer than eight in the last few minutes.

Wilde wasn't quite sure what to expect this year with only two seniors, but it didn't take long for him to realize the team could compete against much of the state's best competition.

"We're a little bit farther ahead than we thought we would be at this time," Wilde said.
●●●●●●●●●●●●●●●●●●●
GAME #10 - CARSON SETS SCORING RECORD - 12/30/10
Carson sets tournament scoring record: Mesa (Ariz.) may have finished sixth in the STOP-DWI Classic, but its point guard, Arizona State-bound senior Jahii Carson, left a lasting impression on the city of Binghamton, N.Y. The slick 6-foot guard set a tournament record of 109 points, capped by his 36-point performance in a 70-51 loss to Holy Cross. He broke the previous record of 100 points held by Charles Jones, then of Bishop Ford and later LIU fame, set in 1992. Carson, who did as much damage on the perimeter as in the paint with his furious drives into the lane, scored 35 points against Thomas Jefferson and 38 against Davidson Day (N.C.).

"That's the best scorer I've ever seen in high school," Holy Cross senior Evan Conti said of Carson, the eighth-ranked point guard in the Class of 2011, according to Scout.com. "There are some shots he made, they were like video game kind of shots."
●●●●●●●●●●●●●●●●●●●
GAME #9 - MESA TOPS NORTH CAROLINA TEAM - 12/29/10
Mesa High guard Jahii Carson flirted with the STOP-DWI Holiday Classic's single-game scoring record Wednesday in a 66-46 National Division win over Davidson (N.C.) Day School.

Carson scored 15 first-half points, and his 19-point third-quarter outburst had him on pace to threaten the record of 46, established two years ago by Matt Murray of Windsor in Regional Division play.

Instead, 5-foot-10 Carson turned into a distributor of the ball through the conclusion at the Broome County Veterans Memorial Arena and his 38-point total went down as fifth-highest in tourney history.

He has scored 73 points in two games. Mesa will play Holy Cross of Queens for fifth place at 1 p.m. Thursday. The three-game tournament record is 100 points, set in the 1992 inaugural by Charles Jones of Brooklyn's Bishop Ford.

"My coach pretty much tells me, when we're not scoring, for 4-5 possessions I just need to take over the game," said Carson, who has committed to Arizona State University. He was the winner of Monday's pre-tourney dunk contest.

"In the third quarter, I was just feeling it. I kept going to the basket and I got to the free throw line so, my stroke started coming on a little bit."

Carson scored 10 points in the first 2 1/2 minutes of the third quarter, and he made it 17 with 3:57 remaining. The only other Mesa player to score was Anthony Garcia, whose 3-point goal with 2:39 to play in the period put his squad on top by 51-31.

The teams were separated by nine points in the first minute of the quarter.

Bernard Sullivan, a forward bound for Clemson, topped Davidson Day with 16 points and 10 rebounds.
●●●●●●●●●●●●●●●●●●●
GAME #8 - Thomas Jefferson rallies to top Mesa - 12/28/10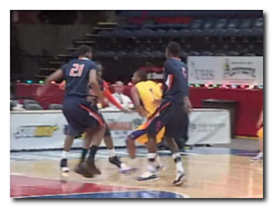 Thomas Jefferson Campus overcame a nine-point third-quarter deficit Tuesday and defeated Mesa (Ariz.) High, 68-61, in the STOP-DWI Holiday Classic's National Division on Tuesday.

Jahii Carson, the speedy and slick 5-foot-11 Mesa floor general, had 14 points by halftime, leading Mesa to a 29-23 advantage at the break. The lead grew to 32-23 when he went right by Thaddeus Hall and softly scored off the glass over Manhattan-bound Jefferson forward Edson Avila. Jefferson coach Lawrence (Bud) Pollard countered with a scrambling full-court press that immediately changed the game.

"We turned up our defense in the second half," Hall said. "Shamel Williams motivated us to play harder defense by him catching three back-to-back steals."

The Orange Wave forced the ball out of Carson's hands with frequent double teams and his teammates coughed it up. Williams created the three straight turnovers in a momentum-changing 10-0 run that turned a seven-point deficit into a three-point lead in the third quarter. Overall, Jefferson forced 19 turnovers, five from Carson.

A 3-point goal by 6-foot-4 junior Thaddeus Hall opened final-quarter scoring and put the Brooklyn squad ahead to stay, 50-47. Hall and Tyquan Goodlet hit two field goals apiece to help Jefferson to a 56-51 lead. Then, after the Wave's Shamel Williams scored on the fast break, Goodlet accounted for four straight points and a 62-53 advantage with 1:42 to play.

The Orange Wave overcame 35-point effort by 5-10 Mesa guard Jahii Carson, who diced Jefferson defenders and got to the rim repeatedly. Carson converted 10 of 12 free throws, and hit his lone 3-point shot with 27 seconds remaining.

Goodlet, a 6-2 senior, led the winners with 21 points and seven rebounds.
●●●●●●●●●●●●●●●●●●●●
GAME #6 - JACKRABBITS OVER HORIZON, 65-50 - 12/10/10
Phoenix Horizon tried to make Jahii Carson score from outside. It tried to get physical with him. In the end, Carson and Mesa won.

The Arizona State-bound point guard scored 22 points and dished out seven assists in host Mesa's 65-50 Class 5A boys basketball victory Friday night.

Carson had all seven of his assists in the first half when Horizon settled into a 2-3 zone. Two or three defenders would converge on Carson when he made a move to the basket. The 5-foot-10 senior simply pulled up as if to shoot and threaded pin-point passes inside for easy baskets.

"I like to pass to my teammates, show that I can distribute it," Carson said.

Carson outplayed senior guard Collin Woods, a UC-Irvine signee, who had 14 points but didn't notch his first field goal until 6:29 remained in the first half when Woods got loose for a breakaway dunk.
Woods made 5 of 10 shots.

Mesa assistant coach Brandon Blitz took control of the team after he received a text message from head coach Shane Burcar two hours before the game, telling him he was too ill to coach.

"I thought it was joke," Blitz said. "I was looking around at 6:45, expecting to see him come through the door."

Blitz said he stuck with the game plan and let Carson carve up Horizon.

"We ran our game," Blitz said.

Horizon (4-1) found itself in an early hole and struggled at the free-throw line. It made 12 of 24 free throws. Mesa made 23 of 34.

After falling behind by 13 late in the first half, Horizon closed the gap to 34-32 on Jordan Dunatov's drive with 2:50 left in the third quarter. Carson then scored on a drive, Trent Molesworth drained a 3-pointers and Carson scored the final four points of the quarter to give Mesa (5-1) a 43-36 lead.
●●●●●●●●●●●●●●●●●●●●
GAME #3 - MESA TAKES FEAR TITLE - 11/27/10
If the preseason rankings play out, the 5A-I final four ought to be good.

Two of the top three teams for the 2010-11 preseason met on Saturday night and went back and forth, needing an extra four minutes to decide the issue.

Preseason No. 1 Mesa rallied from a fourth-quarter deficit to beat third-ranked Corona del Sol 73-69 on Saturday night in the championship game of the Jackrabbits' "Fear the Hop" tournament.

For Mesa star and Arizona State-commit Jahii Carson, it almost sounded like that was part of the plan.

"Overtime was where we wanted to go because we knew in overtime we would have more energy, we were in better shape to take it," said Carson, who had 39 points, including seven of the Jackrabbits' 11 points in the extra period.

"We knew it was going to come down to the wire," Mesa coach Shane Burcar said. "And here's what makes Jahii so dangerous to guard – he won't always shoot it but he will pass the ball too. That's what makes him so tough."

In the overtime, Mesa led 66-64 and had the ball in the final minute. Carson got the ball and looked to make a play but Mesa swung the ball to reserve guard Anthony Garcia, who made a 10-foot bank shot over Corona's Casey Benson to give Mesa some cushion. Corona never got closer than two in the final seconds.

"It's supposed to go to Jahii, but I knew I had to take a shot," Garcia said. "For some reason, I got a feeling, I'm going to take the shot and see what happens. Luckily it went in."

"What is he doing taking that shot?" Burcar said. "And it went in."

For Corona, Calaen Robinson and Avery Moss kept the pressure on all night. The aggressive Aztecs actually got off to a great start, forcing Carson to turn the ball over in the opening minute and taking an 8-2 lead early. Robinson had 24 points and Moss added 11. Casey Benson added 18, almost all of it from the perimeter.

At the end of regulation, Robinson made a pretty double-clutch layup and drew a foul to complete an old-fashioned three-point play to break a 59-59 tie. Carson hit the second a back-to-back 3-pointers to tie it up again with 1:26 remaining.

Mesa got the ball back after a miss with 43 seconds left but Carson tried to get around a double team by Robinson and Bryan Siefker, forced the ball and traveled with six seconds to go.

Robinson missed a driving shot in the waning seconds and Mesa's Charles Croxen rebounded as the buzzer sounded.

Robinson quickly put Corona ahead in overtime but Carson took over, hitting four straight free throws to give the Jackrabbits the lead for good. Another Robinson three-point play got Corona within 70-68 with 22.6 seconds left but Mesa broke the Aztec press and found Trent Molesworth alone for an uncontested layup to help seal the win.

"We want this early in the year," Aztecs coach Sam Duane Jr. said. "It was great test for us early in the year, it's going to make us better in the long run."

In the third place game, Bryan Rhymes scored 16 of his team-high 21 points in the first quarter as fourth-ranked St. Mary's jumped out to a 32-13 lead and never looked back for an 83-52 victory over Desert Ridge. Chris Mason added 20 points for St. Mary's while Derreck Brooks led the Jaguars with 24.
●●●●●●●●●●●●●●●●●●●●
GAME #2 - MESA ADVANCES TO FEAR FINALS - 11/24/10
Jahii Carson's big game helped Mesa earn a 79-64 victory over Desert Ridge and a spot in the Fear the Hope Tournament championship game.

Carson had a double-double for Mesa (2-0), scoring 33 points and dishing out 11 assists.

Trent Molesworth finished with 15 points for the Jackrabbits.

Desert Ridge (1-1) had four player score in double-figures in the loss: Kenny Clifton (13), Casey Lenz (11), Derreck Brooks (11) and Jeremy Banks (10).
Mesa will take on Corona del Sol in the title game at 7 p.m. Saturday at Mesa High School.
●●●●●●●●●●●●●●●●●●●●
GAME #1 - MESA OVERCOMES 20 POINT DEFICIT - 11/23/10
Mesa senior point guard Jahii Carson is going to have to get used to seeing what he saw in Tuesday's boys basketball season opener: the dreaded box-and-one defense.

Gilbert utilized it to perfection in building a 43-23 lead early in the second half, before the 5-foot-10 Carson finally got some offensive help and the Jackrabbits went on a 22-0 run en route to a 60-52 victory in the first round of Mesa's Fear the Hop tournament.

A February-like crowd filled the Mesa bleachers to watch No.1 Mesa and the newly signed Arizona State Sun Devil. Carson didn't score in the first quarter and didn't make his first field goal until the third quarter.

He missed a dunk in the fourth quarter trying to do a 360 move on a breakaway. But in the end he was clutch. He zipped some nice passes for baskets. His 3-pointer gave Mesa a 52-48 lead with 4:20 left.

Carson finished with 15 points. Junior guard Desmond Medder had 20 points in his varsity debut. But he suffered a high left ankle sprain coming down after leaping high for the game-clinching rebound with 39 seconds left.

It doesn't appear Medder will be able to finish the tournament this week. He left the gym on crutches. His dad, Bike Medder, said Desmond was going to ice the ankle tonight and have it examined Wednesday.

In the second half, Mesa did a better job defending Erik Crawford, who made four 3-pointers and scored 20 of his 24 points in the first half. Mesa also started trapping Gilbert in a full-court press in the second half. Gilbert couldn't handle it and Mesa began to play more like the preseason No.1.

Mesa coach Shane Burcar said the rough start was somewhat expected because there are so many new players this year. He said he feels the team will continue to improve and adjust to the box-and-ones. Carson forced the issue at times, and it got him into foul trouble.

Gilbert could be a sleeper. Legendary coach Tom Bennett is on the bench with head coach Jay Caserio. And as much as Bennett would rather stay in the background, you've got to believe he's going to have a big influence. Gilbert won the big-school state championship in 2003 when Bennett led an overachieving bunch.