Mesa edges Valley Vista
Senior guard Zach Hobbs scored 26 points and grabbed eight rebounds in No. 12 Mesa's 57-54, 6A play-in win over Surprise Valley Vista at home. Senior guard Ammon Moritz added 10 points.

Mesa (18-10) is in its first year under coach Scott Stansberry, who believes the 6A tournament that starts Tuesday is wide-open.

"I wouldn't be surprised to see some upsets along the way," he said. "There have been a lot of close games between everyone this year."

Jackrabbits to play for Third Place in Shootout
CESAR CHAVEZ 67, MESA 48: The Champions (12-3) played well enough for a double-digit lead at halftime and didn't give the Jackrabbits (11-5) a chance in the second half rolling to victory in a matchup of 6A schools. The win was the seventh in a row for Gary Lee's squad.

Mesa trailed 30-20 at the half with hope of making a run in the third period. A rash of turnovers - eight in the period - led to easy points. The defiict grew to 40-22 with about five minutes left in the third. Mesa trailed by as many as 24 in the final period.

Twelve players scored for Cesar Chavez, two hit for double figures. Ricardo Sarmiento hit for 15 and TyTy Washington chipped in with 11. Mesa was led by Julian Jackson with 13 points and Ammon Moritz with 10. Leading scorer Zach Hobbs was stymied and finished with a season-low two points. Hobbs sat out much of the second half after the game got out of hand. Hobbs was 1 of 8 from the field. Mesa faces Apollo on Saturday at 5:30 for third place.
Veteran leadership of Hobbs and Adame crucial to Mesa's success
November 29, 2018 by Quinn Jamieson, Arizona State University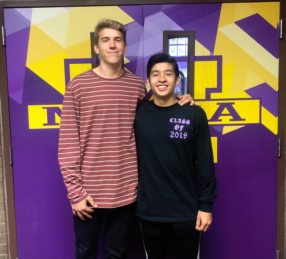 Some basketball teams would panic after giving up a 13-5 run that lasted into the fourth quarter. Others wouldn't be able to finish strong, holding a two-point lead with under a minute to go. And many wouldn't know how to respond after losing a game to the same opponent three days prior in a tournament.

Mesa High School's basketball team faced each of these scenarios in their first regular season game and overcame all of them in a 44-40 victory over Corona Del Sol.

The primary reasons why? Composure, experience and leadership.

At the forefront are two seniors, Zach Hobbs and Tony Adame. They are making sure that the standard of excellence surrounding the Mesa basketball program doesn't miss a step during a period of change.

The duo share the job of team captains, they are dynamic on the court and they provide valuable varsity experience for a team that has high aspirations.

Hobbs at 6-foot-4 is one of the taller players on the Mesa team but he can play any position on the floor. He is primarily utilized as a shooting guard, with strong scoring abilities from the perimeter and inside the paint. He is averaging a team-leading 16.5 points per game along with five rebounds, according to maxpreps.com. He has been awarded East Valley First-Team All-Conference honors the past two seasons.

Adame may only stand at 5-foot-9, but the playmaking point guard commands respect when handling the ball. He is averaging 13.3 points per game, along with 3.5 assists and 4 steals, according to maxpreps.com. Adame was an East Valley conference honorable mention last season.

The pair provide much more for the Jackrabbits than stats suggest. Adame is a three-year varsity player and a vocal leader on the floor. Hobbs is a four-year varsity player who was a freshman on the Mesa state championship team in 2015-2016.

Hobbs' experience on that team has been invaluable three years later.

"I was like a sponge that year, just trying to take in everything I could from those guys," Hobbs said. "I know what it takes to get there, and I just try and tell these guys."

"He's seen it," head coach Scott Stansberry said. "He's been a part of it, and he knows exactly what it takes."

That state championship team was coached by Shane Burcar, a Mesa High legend, who amassed a 67-19 record during his tenure. At the end of last season, he left the program to take a job as an assistant coach at Northern Arizona University.

In stepped Stansberry, a former freshman/JV coach and varsity assistant at Mesa who has spent the last three seasons trying to turn around the fledging basketball program at Apache Junction High School. He made significant strides in that regard, but couldn't resist the opportunity to return to Mesa and take over for his mentor.

"Being back here means everything to me," Stansberry said. "I love it here."

Burcar left big shoes to fill, but Stansberry doesn't let the pressure get to him and has tried to absorb everything Burcar taught him.

"I don't really put too much pressure on myself, because as long as we do what we do and execute, the wins will come," Stansberry said. "It's just an honor to follow him and to have his blessing."

The transition between the coaches made for a difficult summer.

"We definitely had an awkward June," Hobbs said. "It kind of took us until school started and then everyone bought in then."

Adame added: "It helped that he was on the team prior. He knew Mesa basketball and he knew the culture."

Stansberry has relied heavily on seniors like Adame and Hobbs to ensure the winning culture remains in place.

His coaching style may differ from that of Burcar, but apart from a "few tweaks" he hasn't changed much and doesn't plan on doing so. The Jackrabbits have continued to utilize the same formula that has helped them to 14 state championships.

That formula consists of gritty team basketball with an emphasis on hustle and defense.

"Mesa High has always been known for playing defense and getting after it," Stansberry said. "That is absolutely one thing that will never change."

Hobbs shared a similar opinion.

"We just try to play team basketball," Hobbs said. "We really focus on playing hard-nosed tough defense."

The duo tries to be leaders on and off the court. They're vocal on the floor, talk to the team during timeouts and are as Stansberry characterized them, "an extension of me as the coach."

Stansberry called his decision to name the pair captains a "no-brainer."

Adame feels that his actions in practice have a bigger impact than any vocal leadership he provides.

"I think it's the intensity that we (he and Hobbs) have and it's in everything that we do," Adame said. "It's the culture that we have here. We bring it (intensity) in practice so that they (younger players) know what it's like in a game."

Fellow senior and third-year varsity player Eddie McClendon, whom the pair called the teams "spark plug," noticed the small ways they lead and help out the team.

"Those are my dogs!" Mcclendon said. "They have the experience and they know when the game needs to slow down and speed up because they've been there and done that."

Together Hobbs and Adame are responsible for a large portion of Mesa's nightly offensive output and they both like the added pressure.

"First, we like to rely on our defense. If they don't score, we don't have to," Hobbs said. "There's definitely a little bit of pressure for us to produce, but that's what we like."

Hobbs and Adame are the first to tell you that a good basketball team is made up of far more than just two players. For Mesa, their strength comes in the form of a supporting cast that features six other seniors. While none of these players accumulate the individual stats or accolades that Adame and Hobbs boast, they are equally important to the team's success.

"We don't have 6-foot-10 guys here so we need all five to box out on defense," Adame said. "On offense, it's just about everyone hitting open shots and taking care of the ball."

The development of the team behind the experience of the seniors is especially important this season considering Mesa lost two East Valley First-Team All-Conference Players in Mark Hatch and Xavier Fuller to graduation last year.

Stansberry believes one of the keys to having success over multiple seasons revolves around having leaders in the program that help the younger guys develop.

"It's great leadership having them. They know the expectations," Stansberry said. "We do have a lot of seniors, but we also have a lot of sophomores and juniors that don't have the varsity experience so it's great having them help groom them along so we can keep the excellence going."

Both Hobbs and Adame felt they had great leaders that helped them develop. This is something they remember as they try to fill a similar role.

The individual accolades will undoubtedly come for Hobbs and Adame, who both have aspirations to play in college, but the duo isn't focused on that. Their mindset is to take it "one game at a time" and try to make something special happen in their final high school season.

"Being seniors, we're definitely fighting for everything," Hobbs said. "Something special about these younger guys is they fight for us too."

At 4-1 (including tournament play), Mesa is off to a solid start, but have much higher aspirations.

This season's iteration of the Jackrabbits not only wants to beat the mark set by last year's team at 21-6, but they want to return to the same place they were three years ago, and they believe that they have the core to do it.

Nobody would blame a first-year head coach for trying to taper expectations. After all, there only is one state champion. But Stansberry hasn't backed down from the expectations. In fact, he's embraced them to help motivate his team.

He is setting the bar high in his inaugural season, and it is clear that with the leadership, talent and experience that Adame and Hobbs bring to the table, combined with a senior-heavy supporting cast, that ambitious goal isn't out of reach.

The Jackrabbits will hit the road for the first time this season on Friday at La Joya Community High School in Avondale at 7 pm.

MESA vs. BOULDER CREEK
November 21, 2018 by Les Willsey, AZPreps365-
Mesa High and new coach Scott Stansberry are pretty satisfied with their 3-0 start to the 2018-2019 season. The latest of the wins came Wednesday night in the semifinals of its annual Fear the Hop tournament -- a come-from-behind effort.

Zach Hobbs sank a go-ahead three with 2:01 left in overtime as Mesa rallied from a nine-point, third-quarter deficit to defeat Boulder Creek, 67-63, at Jackrabbit Gym.

Mesa faces Corona del Sol, which also ran its record to 3-0 with a 67-34 win over Campo Verde in the other semifinal. Those teams meet in the championship game on Saturday at 7 at Mesa.

Hobbs, a 6-foot-4 senior guard who is closing in on the school record for most three-point field goals made in a career, sank just the one trey in this game. Hobbs had a tough time getting shots attempting just eight. Hobbs finished with 10 points after a 31-point effort the night before against Queen Creek. Other teammates picked up the slack with Tony Adame hitting for 14 points as well as Jesus Velazco with 14 points off the bench. Wyatt Appel was the fourth Mesa player in double figures with 10. Appel sank two free throws with 13 seconds left after Boulder Creek turned the ball over on a potential tying possession to ice the game.

The game was close most of the way, but Boulder Creek put some fear in Mesa using 12-2 run to open up a 39-30 lead with five minutes left in the third period. Mesa pecked away and trailed 44-41 heading to the final period. There were six lead changes in the final quarter. Mesa led 57-55 after Hobbs' three-point play put the Jackrabbits ahead with 1:18 to go. Two free throws by Boulder Creek's Sam Kinsale tied it at 57. Hobbs missed a three with 1.3 seconds left bringing on overtime.

Boulder Creek (1-2) was led by guard Tyrese Rogers with 18 points. Kyle Harris, Gavin Caldwell and Kinsale tallied 10 points apiece.