Regional Semi finals - Mesa vs. Red Mountain - February 17, 2010
Mesa powers past Red Mtn. with 3rd-quarter run
By Les Willsey, Tribune

A small stretch of the third period Wednesday night made a big difference for Red Mountain in its bid to keep its 5A Division I playoff hopes alive. Unfortunately, for the Mountain Lions, that stretch wasn't a positive one.

Mesa broke open a tight game with a 4 1/2-minute run in the third quarter that led the Jackrabbits to a 79-64 victory over Red Mountain in the semifinals of the 5A Central Region boys basketball tournament at Jackrabbit Gym.

Red Mountain, which will not finish in the top 16 of the 5A-I power-point rankings, needed to win the regional to secure the automatic state berth that would have qualified it for state. The Mountain Lions ended the season with a 16-13 record.

"That's the third time we've played Mesa and we had a little stretch like we had in the third quarter tonight in each game," Red Mountain coach Greg Sessions said. "We played them toe to toe for 28 minutes the first two times. Not that long tonight. But that's the feature of a good basketball team. They keep coming at you until they find that crease."

Mesa (23-4), which next faces Hamilton for the region tournament title on Friday night at 7:15 at Mesa High, went to intermission with a 35-34 lead. The Jackrabbits led most of the first half, but by no more than six points. Mesa coach Shane Burcar made defense the focus of the halftime festivities.

"I wasn't impressed at all with our defense the first half," Burcar said. "We told them its up to them. They have to make a decision to play defense. That's going to be our bread and butter."

Red Mountain committed just six turnovers in the first half, but doubled that in the third period. The Mountain Lions attempted only nine shots in the quarter and when they stopped the miscues late in the quarter they found themselves down a dozen, 48-36, with 3:22 left in the third after a three-point play by Mesa guard Jahii Carson. Red Mountain trailed by 12 at the end of the period. They failed to make a run at Mesa in the final period.

Both teams had balanced scoring. Carson led all scorers with 26 points. Danny Powell (12), Adam Milkovich (11) and Mohamed Sobh (10) were also in double figures for Mesa. Paul Newendyke closed out a four-year varsity stay for Red Mountain with 15 points. Teammate Eric Pacheco also had 15 points.

Game #26 - Mesa vs. Hamilton - February 12, 2010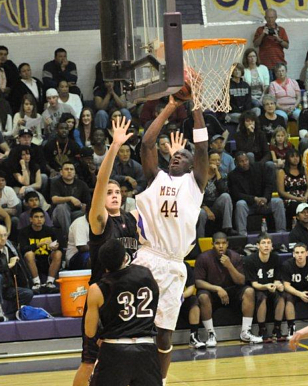 Every time visiting Chandler Hamilton made a run, a different Mesa player answered Friday night.

There was Blondy Baruti rejecting a shot. Jahii Carson leading the fast break. Danny Powell hitting a 3-pointer.

"They're ranked where they are (No. 1) because they've got a lot of weapons," Hamilton coach Kevin Hartwig said after his team's 76-67 Class 5A Fiesta Region boys basketball loss.

Baruti, a 6-foot-9 senior forward who signed with Tulsa, blocked three shots in the fourth quarter. He had six for the game. He also was called for goaltending twice and fouled out with Mesa in control 69-56 with 1:40 left.

Every time Baruti made a big stop, he pounded his chest. It charged up the capacity crowd on Senior Night.

"You want to play off his emotions, but at the same time you don't want it to hurt us," Mesa coach Shane Burcar said. "It's a happy medium. But I'm not sure we have found it yet."

Mesa (22-4, 9-1), ranked first in the Arizona Interscholastic Association's 5A-I power rankings, is finding incredible energy on offense with junior point guard Jahii Carson making shots in the lane with defenders in his face or pulling up for soft, floating jumpers. Carson had 23 points.

Burcar said that Carson is on pace to set Mesa records for points and assists in a season.

"We tell Jahii if you want to kick out you can kick it out, or you can go to the hole," Burcar said.

When Hamilton (17-8, 6-4) closed to within 48-46 on successive dunks by 6-6, 305-pound senior Bayrd Goudeau and senior guard Jerry Harville (16 points) with 1:29 left in the third quarter, Adam Milkovich followed in a shot and Powell hit a 3-pointer to push the lead back up to six for Mesa to start the final quarter.

Mesa scored the first five points of the fourth and Hamilton didn't threaten again.

SCORING
Mesa: Carson 23, Sobh 12, Powell 11, Milkovich 11, Baruti 10, Green 5, Croxen 2
Hamilton: Harville 16, Cone 12, Wilt 11, Marks 9, JAcobsen 8, Goudeau 8, Fetters 3

Scoring summary by quarter
Hamilton 13 16 18 20 67
Mesa 19 16 18 23 76

Game #25 - Mesa vs. Chandler - February 09, 2010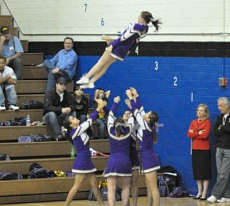 SCORING
Mesa: Carson 32, Powell 13, Baruti 12, Sobh 12, Milkovich 10, Gree 2, Croxen 3, Noble 2
Chandler: Johnson 30, Floyd 10, Lee 8, Mills 7, Norris 5, Armijo 3

Scoring summary by quarter
Mesa 14 - 29 - 24 - 18 - 85
Chandler 20 - 9 - 16 - 17 - 62

Game #24 - Mesa vs. Red Mountain - February 05, 2010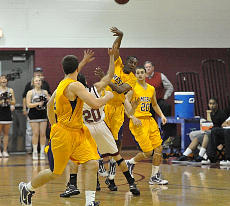 Jahii Carson led the Jackrabbits with 20 points. Paul Newendyke had a triple double for Red Mountain 11 points, 10 rebounds and 10 assists but it was not enough to overcome a 17 point deficit heading into the fourth quarter as the Mountain Lions fell to Mesa High 65-59 in a 5A I Fiesta Region game. The Mountain Lions outscored the Jackrabbits 31-20 in the fourth quarter to make it close at the end. Jordan Pratt led the Mountain Lions with 16 points and Jordan McDougald added 16 points.



SCORING
Red Mountain: Pratt 18, McDougald 16, Newendyke 11, Pacheco 6, Barth 4, O'Connor 4.

Mesa: Carson 20, Powell 12, Milkovich 11, Sobh 4, Green 5, Croxen 4.

Scoring summary by quarter
Mesa 13 16 16 20 65
Red Mountain 4 12 12 31 59

Game #21 - Mesa vs. Hamilton - January 26, 2010
Jahii Carson of Mesa hit 1 of 2 free throws with 7.0 seconds in over time and Hamilton's last second attempt by Micah Fetters rimmed out at the buzzer. Danny Powell lead Mesa with 11 rebounds.

SCORING
Hamilton: Cone 21, Wilt 18, Fetters 14, Jacobsen 12, Marks 4 , Darley 3

Mesa: Carson 35, Powell 13, Milkoyich 10, Fackreil 8, Sobh 4,

Scoring summary by quarter
Mesa 14 - 19 - 18 - 13 - 9 =73
Hamilton 16 - 10 -13- 25 - 8 = 72

Game #18 - Mesa vs. Mountain View - January 18, 2010
Blondy Baruti said defense is what gets his offense started.

On Monday, his finest defensive play got the team bus started.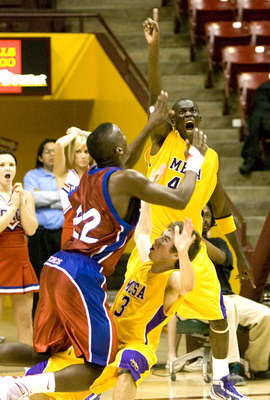 The Mesa High boys basketball forward blocked a game-tying shot attempt by Mountain View's Jaron Sweeney with one second left as the top-ranked Jackrabbits held on for the 54-52 overtime victory in the Martin Luther King Basketball Classic at Wells Fargo Arena.

Jahii Carson hit a free throw to give the Jackrabbits a two-point cushion with 14.2 seconds left.

After a timeout, No. 4 Mountain View passed the ball around the perimeter until it went to Sweeney, who drove and attempted a floater from in the paint.

Baruti timed his jump perfectly for his fourth block of the night and the hard-fought victory.

"We were sticking to (Mountain View's 3-point shooters) and if they drove we were hoping Blondy would get a block," Mesa coach Shane Burcar said.

Mountain View had a chance to win at the end of regulation, but Asaad Woods missed a fadeaway.

The Toros (13-3) were still in control late in overtime as they held a 52-48 lead with possession of the ball with under two minutes remaining.

But Mountain View, generally a team very fundamentally sound, turned the ball over on four straight possessions and Mesa (15-3) scored the last six points of the contest.

Carson, who scored a game-high 33 points, put his team ahead 53-52 on a pull-up jumper with 31 seconds to go and pushed the lead to two points by making one of two free throws before Baruti's heroics.

"We made plays at the end," Burcar said.

A recruiting violation forced Baruti to sit out the second half of last season, beginning with the first of two games against Mountain View.

He returned to play Jan. 8 this year, and this was his first meeting with the cross-town rival Toros.

"I was ready for this game," he said.

Woods scored 13 points for Mountain View, but he missed nearly eight minutes of the second half because of an erroneous foul call which was intended to go on Tyson Lane.

Baruti picked up his fourth foul with more than four minutes left in the fourth quarter, but neither star player fouled out.

Game #17 - Mesa vs. Desert Vista - January 12, 2010
Contrary to popular belief, the Mesa boys basketball team can win without dominant performances from high-scoring guard Jahii Carson and just-back big man Blondy Baruti.

Senior forward Adam Milkovich proved that Friday night as he led Mesa to a 61-35 win over Class 5A Fiesta Region foe Phoenix Desert Vista.

Desert Vista's defense held Carson and Baruti to just one bucket apiece through two quarters of play, resulting in 19-18 halftime lead. That, however, only gave the home team false hope.

Mesa's Milkovich, who started ahead of Baruti, scored his team's first nine second-half points, igniting a 19-0 run that resulted in a 39-24 lead.

"We changed the tempo in the second half," said coach Shane Burcar, whose Mesa squad (14-3, 2-0) will return to the court Monday for the MLK Basketball Classic at Tempe's Wells Fargo Arena. "We want to play fast."

With Carson dishing passes on the fast break, Milkovich finished the game with 21 points.

"That's huge because when they (quell) our top players," Carson said, "he steps up and he makes a big impact."

Added Burcar of Friday's top scorer: "He's a workhorse; he never stops battling. Jahii and Blondy were a little bit off, but depth is our strength."

Carson, who entered the game averaging 25 points per game, had just 11. And Baruti, in his third game back since regaining eligibility from a recruiting violation last year, had a quiet double-double (10 points, 11 boards) and two blocked shots.

Desert Vista's John Marshall scored 13 of his team's 19 first-half points but was shut down in the third and fourth quarters. Harassed by Mesa's moving hands, the hosts' offense essentially boiled down to three three-pointers from senior Duncan Schramm.

"We came out thinking it was going to be an easy game, so we came out sluggish," Carson said. "We had to step it up in the second half, step up the defense."

Game #16 - Mesa vs. Brophy - January 12, 2010
Blondy Baruti's first game at Mesa in more than a year got off to a rousing start.

His teammates picked up the slack the rest of the way.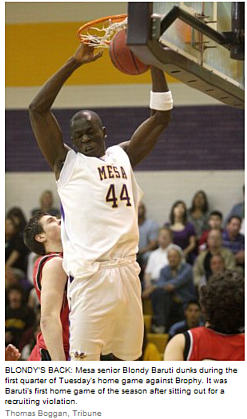 Foul trouble limited Baruti's second-half production after nine points and five rebounds early, but Jahii Carson had 19 points and Adam Milkovich added 15 as the top-ranked Jackrabbits knocked off Phoenix Brophy 65-58 in the 5A-I Fiesta Region boys basketball opener for both teams Tuesday night.

Because of a recruiting violation, Baruti had not played since last January until Friday's road game against Tucson.

"It's been a long time, and I was ready for this," Baruti said.

His introduction drew raucous cheers from the crowd.

"Mesa High loves me," Baruti said. "And I love Mesa High."

Baruti made his presence felt in the game's first minute by throwing down a dunk, and his strong first quarter helped the Jackrabbits (13-3, 1-0) take a 15-10 lead.

It stretched to eight points at halftime, but Baruti sat out the latter portion of the quarter after getting called for his second foul. He picked up his third foul 26 seconds into the third quarter and sat out the rest of the period, but the Broncos could only cut the deficit to 43-36.

Reserves Kyler Fackrell and Justin McCray played well in Baruti's absence.

"That's something we've got to do," Mesa coach Shane Burcar said. "That's our depth."

The lead dropped briefly to four points in the fourth quarter, but a 9-2 run by Mesa assured Brophy wouldn't get any closer.

Baruti finished with 11 points, seven rebounds and three blocks. Danny Powell added 14 points for the Jackrabbits.

Game #14 - Mesa vs. Pinnacle - January 05, 2010
Mesa just got back from the buzzsaw of basketball tournaments, going 2-3 against some of the nation's best at the MaxPreps Holiday Classic.

But coach Shane Burcar called smallish Phoenix Pinnacle the "toughest" team Mesa faced following an 80-74 Class 5A non-region victory on the road Tuesday night.

Mesa's two wins in San Diego came against Los Angeles Fairfax and Seattle Franklin. One of its early season wins came against pre-season No. 1 Phoenix North.

"No disrespect for the other teams, but that was the toughest team we played all year," Burcar said. "We knew it was going to be a fight the whole night."

Two Mesa starters didn't begin the game for violating a team rule, and Mesa (11-3) trailed Pinnacle 18-8 in the first five minutes.

Pinnacle (10-5), which plays in Division II, made eight of its first 12 shots from five different players.

Junior point guard Jahii Carson sparked Mesa late in the quarter to bring his team within two.

Mesa didn't lead until Carson hit a 3-pointer with 5:53 left in the second quarter.

After Pinnacle went up 43-31 with 6:05 left in the third quarter on a three-point play by dynamic 6-4 senior point guard Nate Murdock (17 points), Carson sparked Mesa again with a steal and a slam.

"I figure I got to get a dunk in," said Carson, who said that his vertical has been measured at 42 inches. "To get a dunk, that's a huge momentum boost."

Mesa sophomore forward Danny Powell nailed three 3-pointers, including a buzzer-beater, in the final 2:25 of the period and Mesa led 52-51.

Mesa scored the first eight points of the final quarter, and Pinnacle (led by guard Daniel Dziedzic's 20 points) couldn't get any closer than the final margin.

Carson, who has committed to Oregon State, finished with 28 points.

"We had to just stay together, just fight," said Carson, who made the all-tournament team in San Diego. "We have to keep rolling. That was a huge power-point game."

None of the holiday tournaments count towards power points, which determines the state tournament seeding. The rest of the games do.

Carson believes playing some of the top teams in the country will boost the team, especially with 6-9 senior Blondy Baruti returning Friday against Tucson at Tucson Pueblo. It will be the Tulsa-bound forward's first game since he was ruled ineligible last year.

"He's going to make a huge impact on the defensive end," Carson said. "On the offensive end, people are going to pack it in and it will help us get open from the outside."

Game #09 - Mesa vs. Taft (CA) - December 26, 2009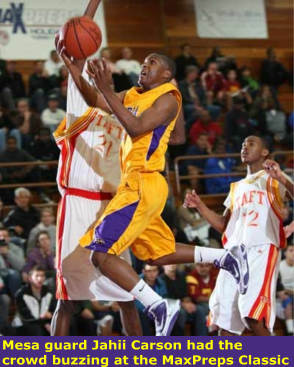 There was considerable buzz - and understandably so - every time Mesa point guard Jahii Carson touched the ball.

The lightning bug 5-11 junior weaved around and through some of the most talented and tenacious guards in Southern California. The Oregon State-bound standout guard was as good as advertised with a game-high 25 points and four assists.

But Taft coach Derrick Taylor and his staff never really worried because one guard against the stable of Toreadors just can't win and Mesa never really threatened after keeping it close for the first 12 minutes.

Pierson Williams, a 6-4 senior, had 19 points, USC-bound Bryce Jones added 16 and Texas-bound Deandre Daniels and Landon Drew contributed 14 each as Taft improved to 8-1.

Taylor said this is one of his deepest teams ever and that showed during a 30-point fourth quarter when the team's 10th, 11th and 12th players looked superior to most teams starters.

"It might be our deepest team ever," said Taylor, who has coached 24 years at Taft, the last 10 as head coach.

Mesa (8-1) played without 6-6 Tulsa-bound post Blondy Baruti, out with a leg injury. Carson was terrific and made one absolutely spectacular double-spin, acrobatic over his shoulder catch in the first half. But Taft did force him to make eight of the team's 30 turnovers. The Toreadors simply wore down Mesa.

AHII CARSON NAMED TO ALL TOURNAMENT TEAM - Congrats to Jahii for being named to the MaxPreps All Tournament Team. Mesa competed against some of the top teams in the nation and held their own, winning two of their five games.
Game #08 - Mesa vs. Alhambra - December 14, 2009
SCORING
Mesa: Carson 16, Milkovich 16, Powell 15, Sobh 9, McCray 7, Garcia 6, Croxen 4, Escobar 4, Taylor 2
Game #07 - Mesa vs. Carl Hayden - December 11, 2009
Sophomore Danny Powell and senior Adam Milkovich both had a double-double. Powell had 10 rebounds to go with his 16 points, while Milkovich recorded 11 rebounds to go with his 18 points. Mesa is now 7-0 and Horizon is 4-1.

SCORING
Mesa: Carson 31, Milkovich 18, Powell 16, Croxen 2, Sobh 1

Game #06 - Mesa vs. Carl Hayden - December 10, 2009
Jahii Carson had his second double-double in a row with 11 assists. Adam Milkovich also had a double-double with 12 rebounds to go along with his career-high 20 points.

SCORING
Mesa: Carson 21, Milkovich 20, Powell 17, Sobh 7, Croxen 5, Noble 2, Escobar 1, Sloan 1

Game #05 - Mesa vs. Westwood - December 08, 2009
New region alignments have all but eliminated inner-city rivalries across the state of Arizona. Until this year, the Mesa schools made up the East Valley Region, playing each other two to three times a year depending on Region Tournament match-ups. Those five Mesa schools were separated into three different regions, thus separating the state longest rivalry in Mesa High and Westwood. To keep tradition alive, Mesa and Westwood were scheduled in a non-region game in early December. Westwood made the short four mile bus ride to Jackrabbit Gym on December 8th for a crack at #1.

The Jackrabbits continued their 2009 trend of getting off to quick starts. An early bucket from Danny Powell, a three from Mohamad Sobh, and a rim-rattling dunk from Jahii Carson got the "Mesa Mob" on their feet. Another three, this time from Charles Croxen, and several forced turnovers put the Rabbits ahead 16-7 at the end of one. Mesa slowly extended their lead throughout the second quarter, pushing it to 32-18 at the half, led by Danny Powell's 8 first half points, with point guard Jahii Carson on the bench with three fouls.

Carson came out firing in the third quarter, scoring 8 of his 15 and senior forward Adam Milkovich came alive with 7 second half points, four of which were on assists by Danny Powell. Mesa cruised to the finish line with a 59-41 score over inner-city rival, Westwood High School. Jahii Carson finished with a season high 10 assists to go with his 15 points. Mohamad Sobh finished with 11 points, 5 rebounds, 5 steals, and 2 assists. Danny Powell finished with 12 points, and Oscar Escobar had 6 rebounds off the bench. Mesa's next game is Thursday at home vs. Carl Hayden High School.

SCORING
Mesa: Carson 15, Powell 12, Sobh 11, Croxen 7, Milkovich 7, Taylor 2, McCray 2, Noble 2, Escobar 1

Game #04 - Mesa vs. North - December 03, 2009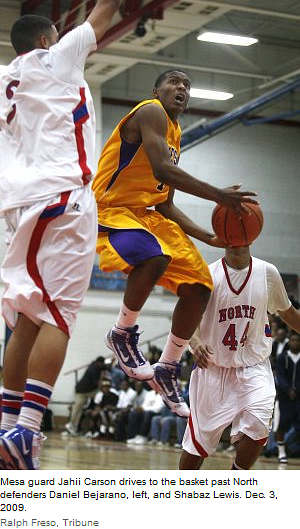 Jahii Carson knew 6.6 seconds was plenty of time to race down the length of the court.

Now everyone else does, too.

The Mesa point guard's mad dash and buzzer-beating layup ended a sensational game between two 5A-I powers, with the No. 2 Jackrabbits pulling out a 92-90 overtime victory over No. 1 Phoenix North on Thursday at North.

The game seesawed back and forth the entire time, and the ending was no different.

Mesa had a two-point lead with 17 seconds left, but North's Daniel Bejarano had a chance to win the game after scoring a layup and getting fouled with 6.6 seconds left. His free throw rimmed out and Carson took advantage, racing coast-to-coast for a layup over the outstretched arms of Bejarano as time expired in the overtime period. The bucket set off pandemonium from the Mesa side, with Carson being lifted on his teammates' shoulders.

The Jackrabbits called timeout before Bejarano's free throw and Carson was told to get the ball and push it.

"When we do layups in practice, I know I have three dribbles to get up and down the court," Carson said. "I knew that if nobody stopped me, I could get to the rack."

The game would have never gotten to this point without Bejarano's heroics. He had a quiet first three quarters, but came alive with 11 points in the fourth, including a 3-pointer with eight seconds left to send the game into overtime. He finished with 29 points, 20 of which came in the fourth quarter and overtime, five rebounds and five assists.

Carson had 31 points and four steals for Mesa.

The biggest lead for either side in overtime was a four-point advantage for North with under two minutes to play.

A pair of Carson free throws cut it to a bucket, and Danny Powell hit a 3-pointer to give the Jackrabbits (4-0) an 87-86 lead with 56 seconds left.

Bejarano had North's last seven points of overtime, including the game-tying bucket, but he couldn't make the free throw or stop Carson.

Despite this being early December, Mesa coach Shane Burcar said the game had significant impact. "We're not going to pretend it wasn't a big game," Burcar said. "We were fired up. In our opinion, No. 1 was on the line ... and of course you want to be No. 1."

Game #03 - Mesa vs. Hamilton - November 28, 2009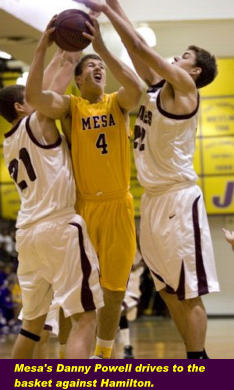 If the first week of the season is any indication, Mesa should have plenty to look forward to in the 2009-10 boys basketball season.

Jahii Carson scored 20 points and Adam Milkovich added 15 to pace the second-ranked Jackrabbits past Chandler Hamilton 70-46 on Saturday night to win its Fear the Hop tournament.

The 3-0 start for Mesa is impressive considering the Jackrabbits still don't have a few football players on the court because Mesa reached next week's 5A-I state football semifinals. Also, Mesa's star, Blondy Baruti, won't be eligible until after the new year because of a recruiting violation.

It still looked like Mesa had too much for Hamilton on this night.

"The biggest thing for us is we have depth," Jackrabbits coach Shane Burcar said. "We're missing a couple of guys, our depth is really good. The thing was we got out to a good defensive game. I was surprised at how well we did tonight."

The Huskies a year removed from a state semifinal appearance never got their offense in gear and had a hard time with Carson.

Jerry Harville led the Huskies with 17 points while an early Jackrabbit zone kept shooter Jack Cone and spark plug Micah Fetters off the scoreboard until the game was already getting out of hand.

Mesa scored the first seven points and led 16-2 after five minutes following a pretty basket by Carson after back-and-forth passing with Justin McCary after a Hamilton turnover. At the outset, the ultra-quick 5-foot-10 Carson penetrated and tried to create opportunities, scoring six points at the start, all on layups.

"We want to go as fast as we can," Burcar said. "What we say is run and gun with intelligence the whole time. We have the personnel to do that."

The Jackrabbits scored the last six points of the second quarter and led 32-17 at the break.

"We knew we had to come out and kind of weather their storm right away, and we didn't do that," Hamilton coach Kevin Hartwig said. "They jumped on us right quick, and Jahii is such a handful to contain with the basketball."

Then, to make sure Hamilton didn't get any thoughts of trying to get some momentum, Mesa scored the first 10 points of the second half. Mohamad Sobh (12 points) and Milkovich each stole passes and made layups in the first minute of the third quarter to set the tone.

Hamilton never got closer than 16 the rest of the way.

Still, Hartwig said it was a learning experience.

"Tonight identified some of our weaknesses, things we have to work on," he said. "I think we can be a decent ballclub. Our region is going to be tough with Mesa and (Phoenix) Brophy and (Mesa) Red Mountain. But we needed this tonight to find out what we need to work on."

Cone, who led Hamilton with 19 points in the win Wednesday over Tempe Corona del Sol that got the Huskies into the tournament final, was held to seven points and he didn't get a shot until the second quarter or a basket until 2:55 left in the first half.

In addition to giving Mesa a title in its own tournament after losses the last two years, the win also sets up an interesting early season matchup on Thursday at 5A-I No. 1 Phoenix North, the defending state 5A-II champion.

"Now we got the showdown Thursday with North," Burcar said. "After these three games, I was surprised how well we have done. I know we have it in us, but the results are really impressive for us right now."

Game #02 - Mesa vs. Gilbert - November 25, 2009
Mesa advances to Fear the Hop championship game
By Ben Stapley, For the Tribune

Mesa High School advanced to its own tournament championship game with a dominating performance Wednesday night.

The Jackrabbits overpowered and outran Gilbert High, 78-46 in a semifinal contest of the Fear the Hop invitational at Mesa High School.

The win sets up a showdown with Chandler Hamilton Saturday night at 7p.m.

Hamilton — a 5A-I state semifinalist last season — knocked off Corona del Sol in an earlier semifinal contest.

Mesa point guard Jahii Carson led the offensive attack with 26 points and six assists for the Jackrabbits, who never trailed in the game and cruised to a 45-25 halftime cushion.

"I'm very pleased with the way we played tonight," Mesa coach Shane Burcar said afterward. "Gilbert is always a well coached team, and they've had our number the last few years. So anytime you can play well against it team like that it makes you feel pretty good."

Forward Danny Powell was a consistent presence down low for Mesa, as he added 17 points and eight rebounds.

Mohamad Sobh added 14 points for the Jackrabbits, including seven in the third quarter, when Mesa had built up a 30-point lead.

Shawn King led Gilbert with 15 points, but early foul trouble sent King to the bench during the first half, giving Mesa a defensive edge.

"When (King) picked up two fouls early on, it was obviously an advantage for us and it made things easier defensively," Burcar said.

Game #01 - Mesa vs. Desert Ridge - November 24, 2009
Mesa Cruises in Opener

Mesa High tipped off their 2009-2010 season in their 6th Annual Fear the Hop Tournament against Desert Ridge High School. Six foot seven first year starter, Adam Milkovich, won the opening tip and junior point guard Jahii Carson got to the line and made both free-throws. The Jackrabbits took a 2-0 lead and never relinquished it having lead from start to finish. Mesa led 21-7 after the first quarter and 39-17 at the half after a late 2nd quarter 3-pointer by the 6'7 senior Josh Noble.

The 2nd half started and Mesa picked up right where they left off in the 1st. They extended their lead to 63-28 with six minutes left in the 4th quarter. Carson finished with a game-high 34 points and added 4 assists. He was 4-4 from 3-point range and 8-8 from the free throw line. Sophomore Danny Powell chipped in 10 points while junior captain Charles Croxen added 11 rebounds and 4 assists. Milkovich recorded 9 rebounds and the starters were pulled two minutes into 4th quarter. Final Score: Mesa 63 Desert Ridge 35.

Mesa High is currently playing without 5 players. Blondy Baruti, the 6'9 senior who averaged 10 points, 8 rebounds, and 4 blocks last year, 6'1 senior newcomer Nick Sloan, and three football players. Senior captains Kyler Fackrell (5 RPG), Jaymen Green (defensive stopper), and junior Anthony Garcia have lead the Mesa High Jackrabbits to the State Semi-Finals against Mountain Pointe High School on December 4th. Fackrell is the leading receiver, Green their leader in total yards, and Garcia starts opposite of Fackrell at receiver. All five are expected to contribute upon return.