Mesa boys basketball knocks off rival Mesa Mountain View
Keith Jenkins, Special for azcentral sports Published 10:06 p.m. MT Jan. 12, 2018
Mesa senior guard Xavier Fuller said he and his teammates had Friday night's game circled on their schedule long before the start of this season.
Their opponent: cross-town rival Mesa Mountain View.
The 6A rivals squared off at Mesa High School, and it was Fuller who knocked down four free throws in the final seconds to seal a 50-41 win for the Jackrabbits.
"We had (this game) in the back of our mind the whole time," said the 6-foot-4 Fuller. "The energy in this gym was electric. So we made sure to get out there and dive for every loose ball and play 100 percent."
Fuller, No. 39 in the azcentral sports top 50 Arizona high school boys basketball players mid-season rankings, finished with 14 points, including a perfect 6-for-6 from the free-throw line.
Teammate Mark Hatch, the No. 7 player in the mid-season rankings, added a game-high 18 points to lead Mesa (15-4) to its sixth win in seven games.
"They're a tough defensive team," Hatch, a senior, said of the Toros (10-7). "We expected a close game. Our goal tonight was to play competitively and play hard."
Leading the way
Mesa scored the first basket Friday night and never trailed the rest of the game. Mountain View got close, cutting it to 44-41 with 1:55 remaining.
Coach's thoughts
"We beat Mountain View, our arch-rival," Jackrabbits head coach Shane Burcar said. "We knew it would be a competitive game the whole night with coach (Gary) Ernst and his players. It's kind of like a backyard brawl with Mesa and Mountain View."
Mountain Pointe sophomore DeAndre Henry hits game-winner for McClintock tournament title
December 29, 2017 by Richard Obert, azcentral sports
DeAndre Henry, an imposing 6-foot-7 sophomore, says his favorite sport is basketball, although his only three scholarship offers so far have come in football, as an offensive tackle.

Arizona State, Kansas State and Memphis all have offered.

But Henry let it be known Friday that he can ball, too. His layup with seven seconds left gave Phoenix Mountain Pointe a 60-59 victory over Mesa for the championship of the Tempe McClintock Holiday Basketball Shootout tournament.

"I grabbed it and went up strong and finished the basketball," Henry said. "We had to stay patient and play as a team and come together at the end."

Mesa junior guard Zach Hobbs had a good look at a 3-pointer from the corner, but his shot rattled out of the rim as time expired.

"This was the one team I really didn't want to play," first-year Mountain Pointe coach Duane Eason said. "I knew how good they were. They're really well-coached and tough and disciplined."
Three takeaways

– It was a tough defeat for Mesa (12-4), which led most of the game, behind senior guard Mark Hatch and his ability to break down Mountain Pointe's tough, fast, athletic defense that likes to press teams into submission.

Hatch had 11 points in the first quarter when Mesa took a 19-14 lead. Hatch is as good as any 6A guard in the state at breaking presses.

– Mesa had its chances to put it away late, after Xavier Fuller made two big steals – one at midcourt and another near the Mountain Pointe basket – in the last two minutes. Hatch missed an off-balance drive, but Eddie McClendon was there to rebound the ball for Mesa. He made two free throws to give Mesa a 56-55 lead with 1:13 left. Following Fuller's second steal, guard Tony Adame was fouled with 48 seconds to play. He made the first free throw for a 57-55 lead but missed the second. Selah Thomas scored on the other end to tie it. Fuller's two free throws gave Mesa back the lead with 22 seconds left. But after Jalen Graham made his first three throw, he missed his second. Mountain Pointe rebounded the miss, getting the ball into Henry for the game-winning basket.

"We didn't play as hard as we usually do, but the defense stepped it up at the end, and we got rebounds," said the 6-foot-9 Graham.

– This game featured great intensity from both sides. Eason showed that he is maybe the state's best new high school coach with his team at 12-1 and playing hard, buying into his brand of discipline. Meanwhile, Mesa coach Shane Burcar continues to show he is one of the best coaches in the state, period. Every year he has his Mesa teams playing hard, contending for titles in the biggest division.

Mesa-Mtn. Pointe in McClintock Shootout final
December 28, 2017 by Les Willsey, AZPreps365
Mesa High has endured little trouble in reaching the final. The Jackrabbits dispatched Marcos de Niza and Chandler and opened the game with Arcadia with a 15-3 lead after the first period. Neither team shot well much of the game and Mesa's transistion game that got them off to a fast start dried up in the second period. Arcadia closed to within 20-18 at halftime thanks to 10 points from Jaylin Fleming.
Mesa senior guard Mark Hatch was the impetus for Mesa pulling away in the third period. Mesa's cold perimeter shooting continued early in the period so the Jackrabbits and primarily Hatch began taking the ball to the basket. Hatch netted 11 of his game-high 26 point in the third period with a trip of layups and then penetrated and pulled up for two medium-range jumpers. Mesa led 36-25 heading to the final quarter.
Arcadia (10-5) couldn't get much going from anyone other than Fleming. Leading scorer Aiden Weber finished with nine points, just more than half his average. Mesa made sure Arcadia had no chance at a comeback with shooting guard Zach Hobbs finally heating up from the periimeter in the final period. Hobbs didn't score in the first half, but tallied 12 in the second half. Ten of those in the final quarter.

Mesa falls short against Crespi
By Jason P. Skoda - December 19, 2017 - MyNewsMesa.com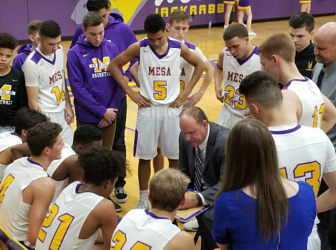 It was an opportunity that doesn't happen often so Shane Burcar gladly welcomed in Crespi for a late afternoon game on Tuesday.

The result – a 66-56 loss on the Jackrabbits home court – wasn't a terrific outcome, but Burcar had the big picture in mind when he agreed to play the team from Encino, Calif.

"Coach (Russell) White runs a class program," Burcar said. "John Calipari at Kentucky scheduled Kansas first and got some people in Rupp Arena for his young team. Here in Arizona we get a chance to play an out of state school in our gym without a tournament.

"The big picture is to advance to Arizona state tournament and this helps. I'd play these kinds of games all the time if I could with respect to Arizona. The kids are finishing exams, it's holiday time and this was a great opportunity."

The Jackrabbits (9-3) fell short of pulling off a win after letting an eight-point lead in the second quarter dissipate as Crespi headed into halftime with a 28-26 lead.

"We lost the game at the end of the half," he said. "I need to do a better job. We had two guys in foul trouble. They hit a 3 and we are losing at the half. We had time to come back but to win these games you have to make plays and we didn't do enough."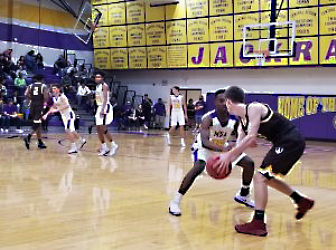 Crespi (10-1) was led by Arizona recruit and senior guard Brandon Williams, while junior 6-foot-6 Kyle Owens was trouble inside and senior guard Russell Tong did damage from the outside.
The Jackrabbits pulled within 43-41 in the third quarter on back-to-back 3-pointers by Zach Hobbs, but trailed 50-43 entering the fourth when Hobbs missed an open three and Crespi's Russell Tong connected on the other end in the final seconds.
The fourth quarter was Mesa's Xavier Fuller trying to get the Jackrabbits back into the game, but Crespi kept answering for the win.

"We definitely need to get better on defense," Mesa guard Mark Hatch said. "This was a good chance for us to get better against a good team. We have some things to work on in practice over break."

The slashing Fuller finished with 23, while Hobbs had 16 on four 3-pointers and Hatch finished with 11 for the Jackrabbits, who host Skyline in East Valley Region action on Friday and then play in the McClintock tournament starting Dec. 26.

"McClintock is always a good tournament," Burcar said. "We will get tested there and then be ready for the of the year."

Gilbert outlasts Mesa
November 30, 2017 by Les Willsey, AZPreps365
Gilbert High boys basketball coach Jay Caserio and Mesa High coach Shane Burcar grew up close by in the same Michigan town separated in age by five years. Their teams play a similar brand of basketball and this season with little size on either side it was a defensive battle worth watching.

Two technical foul free throws by Trajon Hawkins and three by Doc Self in the final 2:44 proved the difference as Gilbert hung on for a 44-42 win over Mesa in a 6A contest at the the Jungle.

Gilbert (4-2 overall), fielding the youngest team in Caserio's 11-year tenure, was more than happy to nab the its first power-ranking win after losing one at the buzzer Tuesday night against Boulder Creek. Mesa (5-1) lost for the first time this season and is 1-1 in power-ranking games.

Gilbert used a huge third-quarter advantage sparked by Self that turned a two-point halftime deficit to a 39-28 advantage heading to the fourth quarter. Self, who tied for game-high honors with 19 points, made all four of his field-goal attempts in the third quarter -- three from 3-point range. Hawkins added five points in the quarter and Jaqwuan Myles four combined to outscore Mesa, 22-9, in the third period.

Gilbert did not make another basket the rest of the game. The Tigers led 39-30 after a timeout with six minutes to play and that's when Mesa senior guard Mark Hatch (team-high 19 points) and Zach Hobbs (14 points) went to work to rally the Jackrabbits. Hatch made a three-point play and sank a long three. Hobbs, an outstanding 3-point shooter, also hit a three (his fourth of the night) and the game was tied at 39.

Gilbert took the lead for good, 41-39, with 2:44 left after Hawkins sank free throws off a technical foul assessed to Hobbs. Gilbert turned the ball over three times in the next 2 1/2 minutes, but Mesa missed shot attempts on all three of the ensuing possessions. Hatch missed a tough three with 18 seconds left and Gilbert ended up with the ball. Self went to the line for a one-and-one with 12 seconds left and made both. Hatch raced up court and couldn't convert on a drive to the basket. Self was fouled again and made one of two free throws with three seconds left to seal the victory. Hatch banked in a three at the buzzer.

"Neither of us has size, but size can be overrated," Caserio said. "We both have the ability to shoot it and handle it, and the three-ball can be the equalizer. One of the keys for us was the defense by Tyler LaGanke on (Mesa's Xavier) Fuller. Fuller can be a handful. Tyler played all 32 minutes and Fuller (five points, none in the second half) didn't have a big game."