Defense, Drew Hatch lead Mesa to Division I boys crown
Richard Obert, azcentral sports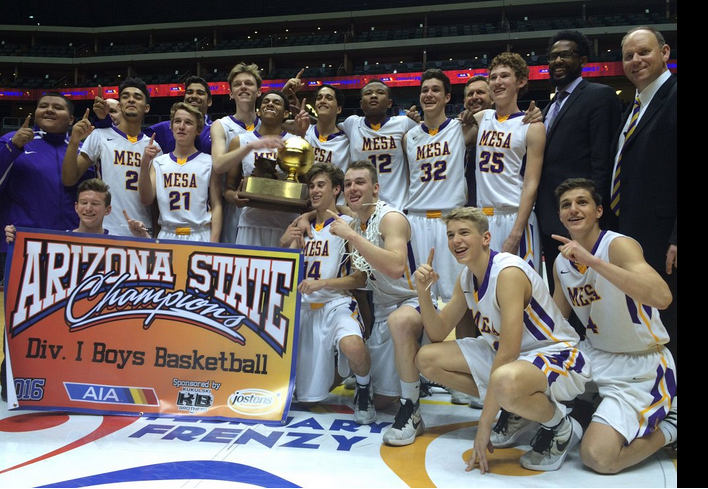 Mesa, needing a lift before halftime, got one from senior guard Drew Hatch.

His 3-pointer at the buzzer cut the deficit to four. That pumped life into the second-seeded team.

Then, Hatch got help down the stretch from little bother, sophomore Mark, and Mesa captured the Division I boys basketball championship with a 51-48 victory Monday night over No. 8 Phoenix Sunnyslope at Gila River Arena.

Sunnyslope methodically built an 11-point lead in the second quarter with guard Dane Maggi hitting a pair of 3-pointers. He had 13 of his team's 27 first-half points.

But he needed help, and Mesa started to chip away, behind senior guard Drew Hatch's five points in the final minute. His 3 at the buzzer closed the gap to 27-23 at the half.
That Mesa defense that held Gilbert to five fourth-quarter points in a gritty semifinal win showed up in the second quarter when Sunnyslope was held to nine points.

Mesa held Sunnyslope to just eight points in the third quarter and pulled ahead 39-35 on Hatch's 3 and two free throws by Eddie Huff.
After a Sunnyslope turnover near the end of the third quarter, Mesa coach Shane Burcar gave a fist pump, feeling the momentum shift.

Mesa had its biggest lead, 45-40, with 3:29 left on sophomore guard Mark Hatch's two free throws.

After a missed reverse layup by Sunnyslope, Mesa spread the floor and worked for a good shot. Mark Hatch, playing with four fouls, nailed a 12-footer, extending the lead to 47-40 with 2:15 to play.

But Sunnyslope wouldn't go away.

Maggi converted a three-point play with 1:06 left, cutting the score to 49-46.

Drew Hatch made one of two foul shots with 55 seconds left for Mesa.

Bryson Mewhinney rebounded his teammate's miss, and, trapped in the corner, called time out with 43.7 seconds left and Sunnyslope trailing 50-46.

Maggi missed a 3 and D.J. Henderson was fouled on the rebound.

But he missed two free throws, giving Sunnyslope a chance.

Hank Hibbeler drove in for a jumper that cut Mesa's lead to 50-48 with 25 seconds left.

Mesa missed five of six free throws down the stretch, opening it up for a dramatic finish.

But Sunnyslope couldn't find any more magic from Maggi, who, coming out of a time out with 5 seconds left, his team down by 3, missed a well-contested 3 from the top of the key.

The Definition of a Team: Mesa Jackrabbits
Mike Wilson March 1, 2016, 4:55 pm
Everybody likes a winner, especially in sports. It's why we watch the sports we do, but when it's high school sports it can be a little different. Students who play sports in high school are playing their respective sports because they enjoy it, for the love of the game, and it's a way for that athlete to make their mark in high school. There is always a chance that these athletes can take their talents to the collegiate level or even higher, but for most athletes, high school is where it ends for them, so these young men and young women play their hearts out.

In Mesa, Arizona there is a high school that embodies what is so right with high school basketball. The Mesa High Jackrabbits are a team in every sense of the word. From the coaches, to the players, to the manager of the team nobody is bigger than the next guy. They look out for each other, they encourage each other when things don't go the way the team envisioned, and most importantly they hold each other accountable on the court and outside the court.

"You take care of the little things, big things will happen for us." Said Head Coach Shane Burcar during a recent practice.

Is that "coach speak"? Absolutely, but the way Burcar coaches his players, they understand the message behind it.

The Jackrabbits have hovered in the top three in the whole state the whole season at the biggest division level in the state of Arizona and are looking for another state title to hang in their well cluttered gymnasium of banners.

When you think of a team you follow winning a championship there are many things that probably come to mind about that team. The team has good offensive players, plays excellent defense, or has such good chemistry that it can overcome most problems that come the team's way during the march to a title.

This year's version of the Mesa High Jackrabbits remind me of several teams in college basketballs gloried past. The Jackrabbits are a team with no big-time division-one type of players where you can sit there and say to yourself "that's the guy that will rescue the team if needed." Nope, what you have is a team like Villanova that has a collection of guys that play as a team and have each other's back in tough times.

That Villanova team played a highly-daunted team in the Georgetown Hoyas in 1985, where the Hoyas were the overwhelming favorite and they were the team that everybody hated with a passion. Before that game, Nova Head Coach Rollie Massimino said some things to his players before they took the floor.

"One, do not play to lose. Play to win. Two, you are good enough to win. You can beat anybody in the country. Believe it." Coach Massimino told his players in 1985.

These are the same thoughts that Head Coach Shane Burcar impresses upon his players on an everyday basis. Burcar is tough on his players, but the Mesa players understand the reason behind his madness. Like Massimino, Coach Burcar never wants his players to doubt themselves when it comes to their opponents even though the talent level may not be what it has been in the past for the team.

In the last three games of the state tournament, the Jackrabbits have what Arizona Wildcats have in terms of not having one true ace in the hole type of player, but a team full of guys who know their role on the team and understand their role for the betterment of the team. The Wildcats lost a lot of talent to the NBA and graduation and to replace that talent takes a massive effort on the recruiting trail. However, has that slowed down the Cats at all? Not really. Do they have a few more losses than last season? Yes, but they are still going to NCAA Tournament and have a great chance to win the Pac-12.

Coach Burcar tells his team at every practice and game that they are no different from the other team.

"You guys will take it to Basha tonight. Take no prisoners!" Coach Burcar yelled enthusiastically at his players before they took floor in the state semi-final game.

The Jackrabbits certainly took it to Basha High School who had a bunch of AAU-type players who were good athletes, but lacked fundamental basketball skills. It was apparent from the start of that semi-final game that if Mesa could get up on them and frustrate them a little bit, then Basha would crumble. That is exactly what happened. Mesa had more hustle for loose balls, timely shot making, good free throw shooting, and most importantly big stops on the defensive end of the floor.

Mesa High locks its opponents down on the defensive end and creates an atmosphere of frustration for their opponent. Once this frustration sets in for the opposition, Mesa has its opponent exactly where it wants them. In this case, it is very much like the Arkansas Razorbacks back in the 1990's coached by Nolan Richardson where it was termed "40 minutes of hell".

The Razorbacks would press the heck out of any team they played, they would play the passing lanes, and make life miserable for the other team. Like I said, Mesa gets its opposition frustrated with a relentless attack defensively and you soon see players from the other teams complaining to the refs, complaining to their teammates, and just flustered to the point of giving up.

A mark of a championship team is its ability to go out and impose its will on its opponent. On Monday night, the Mesa High Jackrabbits went out and took the championship from their opponent. Like the Duke teams of the past, where Bobby Hurley, Christian Laettner, and Grant Hill took any momentum in the arena, the Jackrabbits grabbed all the momentum from Sunnyslope High School right before halftime.

Drew Hatch hit a Steph Curry type three-pointer at the halftime buzzer to pull Mesa within four. The halftime score was 27-23 and the throng of Mesa fans went nuts. From there, the Jackrabbits had all the momentum to come out in second half and gradually take the lead from Sunnyslope.

The pressure defense that had been Mesa's trademark all tournament long, and probably all season long shut down the opposition's players who were known for bombing three-pointers. Mesa wasn't going to let them get any clean looks at a three ball and from there the frustration on the opponents face was increasingly becoming apparent.

In the end, Mesa did what they needed to do to win the Arizona State Championship, 51-48, and put themselves into the storied history of Mesa High athletics. Fear the Hop Mesa players and coaches, you are the champs and nobody, absolutely nobody can ever take that from you. Carry On!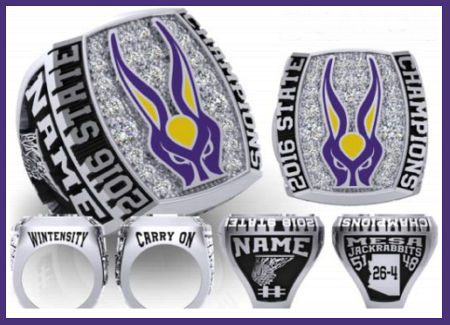 The All Arizona boys basketball team (from left): J.J. Rhymes of Shadow Mountain, Alex Barcello of Corona del Sol, Michael Bibby of Shadow Mountain, Drew Hatch of Mesa High and Mitch Lightfoot of Gilbert Christian
POST SEASON HONORS COMING IN FOR MESA - The Jackrabbits are being rewarded for their recent state championship with a number of post season awards.
Coach Shane Burcar won his second Division Coach of the Year Award as voted on by the AIA's state wide Coach's Poll.
In the same poll Drew Hatch was one of six players named to the All-Division 1st Team. Hatch was instrumental in leading the Jackrabbits to the state title.
In tribute to the Mesa philosophy of a team first approach Darius Goudeau and Mark Hatch were named to the All-Division 1 Honorable Mention list. Congratulations Jackrabbits!