BLONDY BARUTI SIGNS WITH TULSA

The Midwestern United States has built quite a pipeline to Mesa High School in Mesa, Arizona over the past five years. First it was 6'4 guard Graham Hatch, who now starts for Wichita State University in Kansas. Three years later, the University of Iowa came in and plucked Arizona's State Player of the year, in 6'7 forward Aaron Fuller (who is starting as a sophomore). Following Fuller, the University of Tulsa nabbed nationally 6'1 ranked point guard Donte Medder in the 2009 class. Having maintained that connection; the University of Tulsa offered a scholarship to Mesa High's, 6'9 Forward/Center Blondy Baruti, who was a teammate of Donte Medder.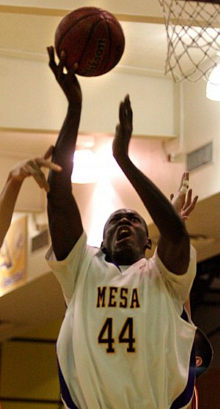 Baruti, a native of the Democratic Republic of Congo, is rated the 23rd best center in the country by ESPN and was rated as one of the ten most impressive players Frank Burlison saw in Las Vegas this summer. Burlison is one of the most highly regarded West Coast basketball scouts. It was after that same tournament in Las Vegas, when Baruti's recruitment sky-rocketed. The University of Tulsa offered him a scholarship and beat out several other Universities including Missouri, San Diego State, Georgia Tech, Boise State, and Northern Colorado.

Blondy averaged 10 points and 8 rebounds per game in half the season as a junior last year. Having grown an inch, and gaining close to 60 pounds since his arrival to the United States; his play on the court has begun to flourish. Mesa High School Shane Burcar had this to say about Baruti, "Blondy is big, strong, and extremely athletic. He has an unbelievable knack for blocking shots and his overall game is improving every day. He is a great kid, and a hard worker."

Baruti, who signed his letter of intent on November 11th with the University of Tulsa, is the first Mesa High player to sign in the early period since 2003, when Lee Cummard signed with BYU. Baruti will be eligible to play for Mesa High School on January 8th this year. His first game will be against Tucson High School. Arizonapreps.com ranked Mesa High #3 in the state preseason and the article stated, "Mesa will be loaded come January, as 6-foot-9 senior Blondy Baruti (University of Tulsa commit) will be eligible by then." When asked about his commitment to Tulsa, Baruti proclaimed, "I love Tulsa. The campus is very beautiful, and I will play with my best friend Donte Medder."

Baruti, the most intimidating big-man in the state of Arizona, is primed and ready for a break-out senior season. He will be able to play in all region games, as well as the Mesa High vs. Mountain View showdown at the MLK Classic at Arizona State University on January 17th. He will also be available for postseason play.